Bio
Bio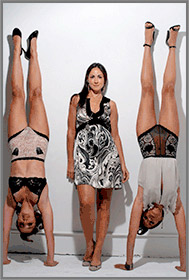 KATE's label, objets trouvés (French for "found objects") draws its inspiration from the beautiful vintage objects she discovers in the flea markets of Paris, the museums and galleries of New York. The vision behind Objets Trouvés was formed when Kate spent part of her summer living in a tiny studio near the Arc d'Triomphe in Paris.
Kate studied art and psychology at the University of Kansas. Upon graduating she traveled throughout Europe, visiting 14 different countries. The first two months were spent traveling with her older sister, a contemporary artist, who inspired her to move to New York City where she landed her first job at Sotheby's. She then went on to manage a private contemporary art collection and from there she returned to school at the Fashion Institute of Technology for a degree in Fashion Design.
Each wearer is meant to find her own way to wear the garment and give it a unique history. Silk-screened within each garment is a "lost object"--a secret hidden from view and to be discovered, ensuring that each piece is as unique as the wearer.